The beach is my happy place. Unfortunately, given the circumstances this year, I haven't been able to make it to the beach as much as I would have liked. Hopefully, that will change for next year.
If you know someone that loves the beach as much as I do, then why not get that person a beach-themed gift? They will love that you bought a present that reminds them of their favorite place.
Let me share my suggestions for the best gifts for beach lovers.
Note: This post contains affiliate links. As an Amazon Associate I earn from qualifying purchases. I also earn a commission if someone clicks the links on this page and shops at Cratejoy or one of my other partners. Please see disclosure for more information.
Best Gifts for Beach Lovers
If you are shopping for someone that needs a litte dose of Vitamin Sea, there are lots of options.
I have done the legwork for you and compiled this list of the best gifts for beach goers. There is something for every price range from luxury items to stocking stuffers and many of the beach-themed gifts will work for both men and women.
Before we dive into the specific beach-related gift ideas, let me mention one item that I don't recommend giving as a present – a bathing suit. While beach lovers do need multiple swimsuits, it will be nearly impossible to choose one that they will like. It's an item that needs to be tried on first. Ok, now that's out of the way let me share the best beach gifts.
#1 Beach Subscription Box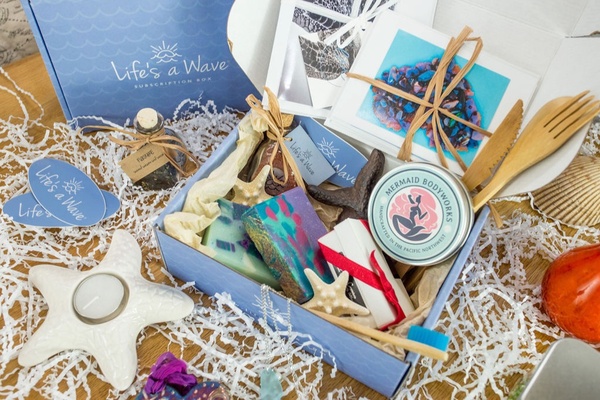 The Life's a Wave monthly beach box includes 5-8 sea-themed items, all handpicked to help you experience that relaxed beachy vibe wherever you are. Some of the proceeds from each subscription box go to support a non-profit dedicated to keeping oceans clean and healthy. It's a unique beach gift that keeps on giving! Get more details about the Life's a Wave box here.
Check out more of the best travel subscription boxes here.
#2 Beach Bag
Check the price and read reviews here.
When you plan on spending a whole day at the beach, there are a lot of little things that you need to bring! I love a bag that will carry a lot and help keep everything organized.
This one has plenty of space for towels, water bottles, sunglasses, sunblock and pretty much anything you need for a day at the beach. It dries quickly and sand falls through the mesh so it's easy to clean. You can get it in many different colors.
See more beach bag options here.
#3 Beach Cup
Check the price and read reviews here.
Drink in style with this cute cup that will help keep your beach beverages at the perfect temperature for hours thanks to its double wall vacuum insulation. It will hold 12 ounces of wine, coffee, ice cream, tea, juice, cola, water, beer or your favorite cocktail.
You couldn't break this beach cup if you tried as it is made from 18/8 food grade stainless steel, which also makes it rust resistant. It also doesn't transfer flavors. This tumbler comes beautifully packaged in a gift box with a clear BPA-free lid, reusable straw and cleaning brush.
See other beach cups options here.
#4 Beach Cup Holder
Check the price and read reviews here.
If you want to keep your drink within reach while still keeping the sand out, use a cup holder. You want one that is is the easy to stick in the sand. This one has pointer spiker so it works even if the sand is wet. It also has a built in bottle opener, that may come in handy!
In addition to beverages, you can use the cup holder for snacks, phones, keys, or other beach supplies out of the sand. It has a stackable design so it won't take up much space in your beach bag. The bright orange and white design make it easy to spot in the sand.
See more beach cup holder options here.
#5 Beach Necklace
Check the price and read reviews here.
This simple sliver starfish necklace is perfect for femine beach lovers. It's dainty and elegant, so it can be worn in many different settings. The pendant is crafted in .925 silver and can be taken off the chain to be used with a different one. It's also available in gold and rose gold colors.
See more beach necklace options for women here.
See beach necklace options for men here.
#6 Beach Game
Check the price and read reviews here.
Some people can sunbathe all day, but I like to include some activity too. There are lots of fun games to play at the beach.
TidalBall combines the competition of cornhole and the ease of bocce ball while being easy to bring along. It all fits in a 10-ounce sand and water proof bag. The balls float, and TidalBall comes with koozies. All ages can enjoy TidalBall so it's perfect for families or groups of friends.
See more beach game options here.
#7 Beach Picture Frame
Check the price and read reviews here.
A picture frame like this is perfect for anyone with casual or beachy decor. They can use it to display their favorite summer memories. It includes the hardware needed to hang photographs in portrait orientation. Put a photo in the frame before you give it as a gift to make it more personalized.
See more beach photo frame options here.
#8 Beach Table
Check the price and read reviews here.
This table is perfect for a romantic beach picnic. The legs fold flat against the table for easy storage and transport, so you can take it anywhere. It has slots to suspend your wine bottle and glasses above any surface. It's not a good idea to bring glass to the beach (in some cases it is illegal) so please use plastic glasses and an alternative container like a thermos for the wine.
See more beach picnic table options here.
#9 Beach Towel
Check the price and read reviews here.
The vibrant modern prints on these beach towels are sure to catch the eye. They are made from microfiber instead of cotton so they take up less space, are lightweight, and dry three times faster than regular towels. The towels have a design on both sides and come in a mesh travel pouch.
See more beach towel options here.
#10 Beach Chair
Check the price and read reviews here.
It's much more comfortable to relax on a chair at the beach then lie in the sand, but it can be hard to find a quality portable option. This folding beach chair fits in a carry bag with backpack straps to make it easy to carry. When you get to the beach the bag rolls up to fit in the pillow for head support.
It's comfortable and versatile too. You can choose from three different reclining position and put up an adjustable sun shade if you like. It has armrests, built in beverage holder, and a ventilated mesh backrest to keep you cool.
See more beach chair options here.
#11 Beach Hat
Check the price and read reviews here.
Everyone knows what a day at the beach can do to your hair. That wind can be brutal, then mix in the sand and the salt water. It's not always pretty. Might be better to wear a cute hat like this instead of risking a tangled mess. Hats make a good beachy gift because they pretty much fit anyone.
See more beach hat options for women here.
See beach hat options for men here.
#12 Snorkle Gear
Check the price and read reviews here.
Some of my favorite beach memories include snorkling. It's nice when you can swim from the beach to coral reefs and see fish. It's even nicer when you can use your own snorkle gear instead of renting ones that are of questionable quality.
This set is top quality and designed for travelers. It comes with a convenient quick-dry bag that's easy to clean and packs easily into a carry-on or backpack as it only weighs two pounds. The fins have a specially-designed pad that helps to hold their shape when packed in tight spaces.
The mask has silicone-injected skirt to fit comfortably to your face and keep any water from entering the mask. The splash guard prevents water from splashing in at the surface and the tube seals completely when underwater. The food-grade hypoallergenic mouthpiece is ergonomic and the one-way purge valve lets you clear the tube of any residual water with one simple exhale.
It is available in different sizes so it could even be a good gift for kids. The rigid blade helps boosts kicking power as it forces water backward, making it easier to move through the water quickly without bulky fins that get in the way.
See more snorkle options here.
#13 Waterproof Bag

Check the price and read reviews here.
When you are at the beach, things get wet unless you put them in a waterproof bag! Seriously a bag that keeps things dry will come in handy when you have to be outside in the rain anywhere. It's lightweight and easy to pack into your luggage.
You can choose from various colors and sizes. If you need to carry a lot, you will be thankful for backpack style shoulder straps and sternum strap for added stability. The IPX8 Certified 6.5 Inch waterproof phone case keeps your phone safe inside too. These dry bags are meant to provide waterproof protection for years.
See more waterproof bag options.
#14 Waterproof Speaker

Check the price and read reviews here.
If you are listening to music by yourself, you can plug some headphones into your phone, but if it's for a larger group a speaker will make a big difference. If it's a speaker that will be used at the beach, it needs to be waterproof and it's helpful if it's compact. This is a cool beach gift for music lovers.
With this bluetooth IPX7 Waterproof speaker you can wirelessly connect up to three smartphones or tablets and take turns playing music. You can even build your own ecosystem by connecting multiple JBL Connect enabled speakers together. It also allows you to take phone calls from your speaker with the touch of a button.
It has a built-in rechargeable Li-ion battery that gives up to 20 hours of playtime and can also charge smartphones and tablets through the USB port. You can choose from six different colors too.
See more waterproof speaker options here.
#15 Beach Candle
Check the price and read reviews here.
A familiar scent can instantly transport you to a favorite place. Smell the fresh salt water and sea musk warmed with sunny notes of tangerine and orange blossom in this candle and dream of a sunset stroll at the beach. It is made from a premium-grade wax that delivers a clean, consistent burn.
See more beach candle options here.
#16 Executive Mini-Sand Box
Check the price and read reviews here.
Bring the beach to your home or office with this executive sandbox. You can play with the sand all year long and enjoy the peace and serenity. It comes with the plastic tray, pearl white sand, 1 sand pail, 1 grooming rake, 1 digging shovel, mini sea shells, 1 sun umbrella with stand and 1 beach chair.
#17 Beach-themed Coffee Mug
Check the price and read more reviews here.
Enjoy every moment and every sip of your coffee or tea in this mug perfect for beach lovers. It holds up to 11 oz and is microwave and dishwasher safe.
Find more beach-themed coffee cups here.
#18 Wine Beach Bag
Check the price and read reviews here.
If you want to take wine to the beach, but want to be discreet and avoid bringing bottles, this tote bag is the solution. It can hold two bottles of wine in its insulated compartment and has a hidden spout for easy pouring. The bag is stylish so you will want to use it even when you are not bringing any wine.
See more beach wine tote bags here.
#19 Beach Pillow
Check the price and read reviews here.
If you don't have room for a beach chair, a pillow could be a good compact alternative. This one has a patented design to help it stay put even when it is windy. It also wicks away water, sheds sand, and feels luxurious against your skin.
Check out other beach pillow options here.
#20 Beach Read
When you go to the beach, you always need to bring a book along with you. Ideally something that is fun to read and keeps your attention. Personally, I like it to be beach-themed too.
Find more books for the beach here.
#21 Audible Subscription
Some people may prefer audiobooks to reading. It's fun way to pass the time as you are working on you tan.
With an audible subscription, you get to choose one or more audiobooks per month (depending on subscription level). It also includes unlimited access to Audible podcasts and exclusive deals off selected audiobooks. They allow you to exchange audiobooks if you don't love them and rollover any unused credits.
All the audiobooks that you choose while you are a member are yours forever, even if you cancel the membership. The books can be accessed on the app from anywhere, you don't need to have wifi to listen. The narration speed can be adjusted and there is a sleep timer.
Get more information about gifting an audible subscription here.
Beach-Themed Gifts
There are quite a few options when it comes to beach gifts, but sometimes you still can't find the perfect present. If you still need more ideas for gifts, you can also check out these posts:
Best Gifts for Travel Enthusiasts
Happy Shopping!
-Anisa
Pin for Later
---
Disclosure: This post contains affiliate links. This means we will receive a small commission for some purchases made using links in our blog with no additional cost to you. Please be assured we would not promote any product unless we believe that our readers will also benefit. The commission does not influence the editorial content of this site.
Two Traveling Texans is a participant in the Amazon Services LLC Associates Program, an affiliate advertising program designed to provide a means for sites to earn advertising fees by advertising and linking to amazon.com, amazon.co.uk, amazon.ca. Amazon and the Amazon logo are trademarks of Amazon.com, Inc. or its affiliates.
Last Updated on August 26, 2023