When travel isn't possible, the wanderlust doesn't just go away and it's easy to feel down. At home, you may feel isolated from the rest of the globe, but it is possible to bring some of the best parts of the world home.
Wouldn't it be nice to receive a surprise delivery that helped to fill the hole? You could virtually escape with a travel subscription box that sends exotic ingredients, artisanal goods, or other products that help to quench your wanderlust, right to your home.
Note: This post contains affiliate links.  I earn a commission if someone clicks the links on this page and shops at Cratejoy or one of my other partners.  Please see disclosure for more information.
What is a subscription box service?
Subscription boxes are recurring deliveries of curated products in a particular niche. The recipient knows the theme of the box and what to expect but the exact contents may not be known until the package arrives. Many boxes are delivered monthly, but some are quarterly or every other month. Most cost between $5 and $100 per shipment.
It is estimated that there are around 600 different kinds of subscription boxes in the United States alone and more internationally. With all the variety on the market today, there is something for every interest and budget.
Best Travel Subscription Boxes
It's hard to choose the best one when there are lots of subscription boxes on the market. Even if you just focus on travel themed subscription boxes the selection is a bit overwhelming. I have broken my recommendations down by sub interest to make it easier to find the right subscription box for you or that special someone in your life.
Best for Foodies
If you like trying new foods or have cravings for foods that are not easy to find at home, one of these foreign food boxes might be perfect for you. There are some for those that like to cook and also some for those who prefer just to eat.
Piquant Post
With Piquant Post, chefs send the freshest flavors and recipes from around the globe to your home. The box includes four freshly-ground spice blends (called flavor kits) and step-by-step recipes each month to help create delicious, globally-inspired meals like Vietnamese Pho in less time.
There are no fillers, preservatives, or sugar unlike many store spice blends that often contain chemicals, preservatives, additives and stabilizers. Access to online information including recipes, substitutes, and alternate ideas for the flavor kits is provided.
Get more details about the Piquant Post box here.
Spicery Recipe Kit
This is another box for those who like to cook at home and want to try making some more international dishes. Each month, they send two recipe kits with carefully crafted spice blends. Just add the fresh ingredients and follow the step-by-step instructions and you will have an exotic meal for four that will impress friends and family with minimal effort!
The Spicery Recipes are developed in the UK so they use grams and milliliters. Let them know if you have any dietary requirements. There is no charge for shipping and each box also includes a free sample.
Get more details about the Spicery Recipe Kit box here.
Kekao Box
This is the box for those that appreciate high-quality chocolate. It can be soothing and luxurious! They search the world and send you 4-5 ethically sourced chocolate bars. They find new makers each month so the box is always different. Shipping is free but they only ship within the USA.
Get more details about the Kekao box here.
Gusto di Roma
Personally, I think the food in Italy is the best in the world. We had one of our best meals of the last year at a small restaurant in Murano. With the Gusto di Roma box, you can get some of that delicious Italian cuisine delivered to your home every month.
The box includes 5-6 ready-to-eat items sourced directly from Italy ranging from gourmet chocolates to artisan salami, to Sicilian sweets. It also comes with a detailed insert that provides pairing recommendations. All items are non-perishable so take your time enjoying your stash. Unfortunately, it is only available in the US.
Get more details about the Gusto di Roma box here.
World Ramen Box
This box will help you recreate the experience of slurping noodles in Japan. Each month, they will send delicious specialty noodles from around the world. The noodles vary from buckwheat to air-dried, udon, and more with broths like Tonkotsu, Spicy Seafood, Shio, Miso, Shoyu all taste-tested by the team. There are three different packages to choose from and each includes at least three different flavors or styles.
Get more details about the World Ramen box here.
Culture Cakes Kit
Take a culinary journey to a different country every month with Culture Cakes Kit. Each box includes international snacks, a cultural fusion cupcake recipe, baking tools, exotic ingredients, and a booklet of cultural discovery. You can create a themed date night, teach the kids about other cultures, or just learn new things to make in the kitchen.
If baking isn't your thing, they offer a 'snacks only' option. Delivery is free but it only ships to those located in the United States.
Get more details about the Culture Cakes box here.
Best for Outdoor Lovers
Those who enjoy spending time in nature away from the hustle and bustle of the city will enjoy these subscription boxes. While you may not be able to use the products at home, they will come in handy on your next outdoor adventure.
Camp Life Crate
With the Camp Life Crate, you get 5-7 camping-themed products, including camping swag, RV accessories, planning and organizational tools, and more each quarter. They also include access to their exclusive subscriber-only community where you can connect with other campers and share tips, recipes, and experiences. Unfortunately, this box is only available to those in the USA and Canada.
Get more details about the Camp Life Crate box here.
The Hikewize Subscription Box
Hiking can be a fun way to get some exercise and explore a destination. We try to fit in a hike when we can. One of my favorite memories of our trip to the Algarve was doing the Seven Hanging Valleys hike. If you are an avid hiker, this box can be an easy way to get outdoor gear. Each quarter they send 5 to 7 full-size products which are typically worth more than twice the subscription fee. The box will also come with general trail tips and advice when visiting various national parks!
Get more details about the Hikewize box here.
The Happy Glamper
If you enjoy nature, but still like to maintain a certain level of luxury, this is the box for you. Each monthly box features a different regional theme and includes 4-6 products from local artisans and luxury glamping gadgets! Some items are useful for all types of travel.
Get more details about the Happy Glamper box here.
Best for Beach Lovers
Some of my favorite trips have been beach vacations and I enjoy a day trip to the North Norfolk coast when possible. If you dream of riding the waves or feeling the sand between your toes these boxes will help bring the beach home.
Life's a Wave Beach box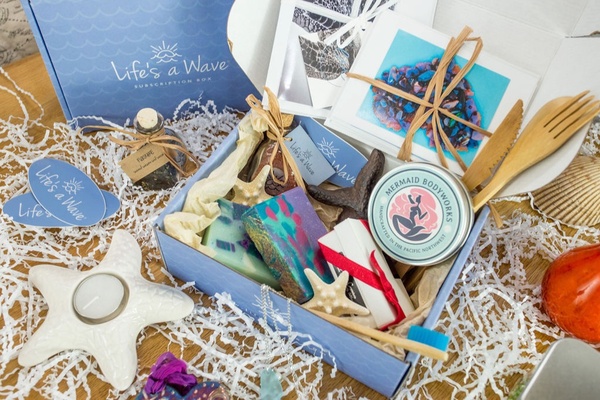 This monthly subscription box includes 5-8 sea-themed items, all handpicked to help you experience that relaxed beachy vibe wherever you are. Some of the proceeds from each box go to support a non-profit dedicated to keeping oceans clean and healthy.
Get more details about the Life's a Wave box here.
SeaCrate
Each month, SeaCrate includes some of the best nautical treats like beachy home decor items, beach-combed treasures, coastal recipes, and sea-inspired jewels. A portion of proceeds benefits the Ocean Conservancy. There's always a chance to win a free gift, and often surprise bonus items, so this box offers a good value.
Get more details about the SeaCrate box here.
Best for Photographers
We take a lot of photos, not just for the blog, but to document memories. The problem can be that you end up with so many photos that you don't know what to do with them. I think many photographers feel that way.
Mootsh
Mootsh is a subscription that helps photographers get high-quality prints of their photos. Every month, you select your 10 best photos, and Mootsh prints them and sends them back along with a contact sheet, to help organize your prints. There are three different print sizes to choose from and also the option to add a photo album.
Get more details about the Mootsh box here.
Best for Bookworms
Cuddling up with a book can be fun at home or on the road. It's an easy way to transport yourself to a place on your bucket list and learn more about its culture. Books can also inspire you to visit a new place or take on a new challenge.
Wordy Traveler
This subscription box allows you to travel the world in books. Each quarter, subscribers receive some inspirational reading and specially chosen gifts while a portion of the proceeds goes to Vitamin Angels to help women and children around the World. Choose from two levels (the Full Suitcase or the Backpacker) depending on how many books you would like to read.
Get more details about the Wordy Traveler box here.
Best for the Stylish Traveler
These boxes are designed for those that like to pamper themselves and keep up with the latest beauty trends. It can boost your mood, encourage healthy habits, and ensure you take some time to relax.
Jetsetter Chic
This box is for jet setters and includes premium products handpicked by a flight attendant to ease travel hassles. Each month, you will receive 5-7 TSA-Compliant must-have travel items (like moisturizing body lotion, charcoal facial mask, stress relief shower steamers for your hotel, cleansing soap, hydrating lip balm, probiotics for your immune system, and jet lag refresh spray for example). When you are not traveling, the sample-size products are a good way to test out and discover new favorites.
Get more details about the Jetsetter Chic box here.
The Wanderlust by BIKINI.COM
The Wanderlust is a quarterly box full of 8-15 style, travel, beauty, and fitness items from unique brands around the world. Each box's theme is based on an iconic beach destination, such as Bali, the Hamptons, or Santorini, and has over $250 worth of full-sized products. You also get a mini-magazine with destination and lifestyle tips.
Get more details about the Wanderlust box here.
Best for Families
These subscription boxes are ideal for those that have kids or like fun and games. It can be a good way to get your kids interested in travel and to teach them more about other cultures.
Escape the Crate
Escape Rooms are a fantastic team-building activity. You have to work together to solve the puzzles and escape. This box brings the fun of an escape room home. They deliver a different adventure every other month. You will have to work with family and/or friends to solve the puzzles and riddles.
Get more details about the Escape the Crate box here.
Our Little Globe
Our Little Globe is a monthly activity box themed to a country. Kids get craft, cooking, colouring, reading, and writing activities to inspire them to learn more about the world we live in. It's a great way to launch their wanderlust. Unfortunately, this box is only available outside the US.
Get more details about the Our Little Globe box here.
Main Street Mail

Main Street Mail helps bring the magic of Disney home. They use a questionnaire to customize the offering, as no two boxes are the same. Each shipment includes at least four items like exclusive small shop merchandise, Disney official products, and park exclusives. They add new products frequently.
Get more details about the Main Street Mail box here.
Best for Drink Aficionados
Whether you start the day with tea or coffee or enjoy a glass of wine or beer with dinner, there is a subscription box to help you discover more about your favorite beverage. It could even be a good way to learn more about different cultures. Please remember to drink responsibly.
Sips By Personalized Tea Delivery
This tea box helps you discover new teas from all over the world. There is a quiz on the website that helps Sips personalize the delivery with teas from over 150 global tea brands. You can specify things like whether you want loose leaf, bagged teas, or a combination of the two. Additionally, choose between caffeinated or caffeine-free teas, or a mix of both. Each month you receive four premium, top-rated teas that have been selected according to your preferences that will make more than 15 cups total.
Get more details about the Sips box here.
Coffee Hot Chocolate
Do you prefer coffee or hot chocolate? With these boxes, you can get local craft coffees from around the world or gourmet hot chocolate kits. Each month will contain two premium coffees delivered or a premium bag of hot chocolate and marshmallows. There is the option to upgrade the box with handmade Farmhouse Pottery mugs.
Get more details about the Coffee Hot Chocolate boxes here.
The HopHeads Beer Club
This beer box is a fantastic way to discover new craft beers!. Each month, members receive a variety of hoppy beers from two or more breweries, accompanied by their monthly newsletter with tasting notes, beer and brewery profiles, and recommended food pairings. You can even order more of your favorites at significant discounts. They also include a free sturdy bartender's bottle opener with every order!
Get more details about the HopHeads Beer box here.
Naked Wines Wine Wizard
Naked Wines is a flexible wine club that supports small wineries across the globe. We are members and tend to order more whenever our wine stock starts getting low, but they do have a wine wizard option which is more like a subscription box for wine lovers.
With Wine Wizard, they periodically send a bundle of seasonal wines picked to match your taste. You get to choose how often (every 1,2, or 3 months), how many bottles (12, 15, or 18) and whether the case has reds, whites, or a combination of the two.
Naked Wines will send out an email seven days before the shipment. If you don't like the look of any of the wines in the case, they can be replaced before the box is shipped. Plus, all of the wines are covered by a 100% no quibble refund guarantee. If you don't like a wine, or it's damaged, let them know and they add a credit to your account to be used for future orders. They also allow customers to postpone or skip an order – or cancel all together.
Get more details about Naked Wines here.
Destination Boxes
Some boxes are themed around a specific destination. Certain ones change the featured location with each box, so you are constantly learning about new places. If there are locales that you can't stop thinking about, there are some boxes that are focused on the same location but still introduce you to new products each month.
Wanderkarma
With this world travel subscription box you get 3-5 artisan products like jewelry, handbags, and accessories from a different country each month. Past boxes have featured Brazil, Cambodia, and the Philippines. They always include a travel guide to fuel your wanderlust to travel to the world.
Get more details about the Wanderkarma box here.
Vacation Crate
This box aims to send subscribers a vacation in a box. Each month they choose 8-10 products (like jewelry, spices, accessories, and more) that travelers will love from a specific destination. It's a fun way to travel from home and experience different cultures around the world.
Get more details about the Vacation Crate here.
Explore Local
With this subscription box, you can explore a new US city every month with premium, locally made, artisan products (including foods)! The box also includes fun facts and a watercolor map for each city. Past boxes have featured Philadelphia, Boise, and the Hamptons. It's a great way to support small businesses and learn about more places in the United States. Unfortunately, this box is only available to those in the USA.
Get more details about the Explore Local Box here.
LondonPopbox
It is easy to fall in love with London. There is much culture and history (take the Tower of London for example). I never get tired of visiting, so if you are missing London, this box may help. Boxes are sent out monthly and contain a limited edition themed box of 4-5 gifts that are contemporary, unique and direct from London UK brands! These could include accessories, homeware, self-care, apparel, stationery, or an edible treat.
Get more details about the LondonPopBox here.
Japan Crate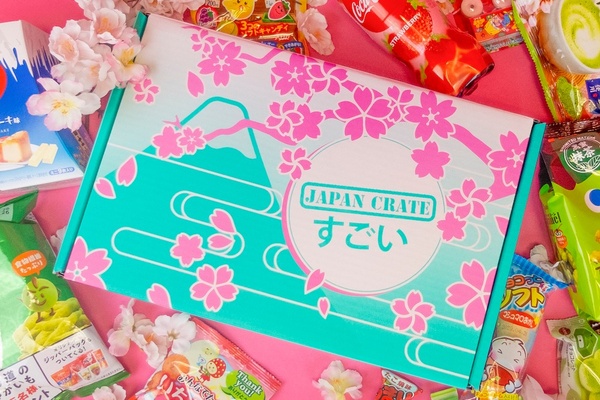 Japan is one of the most fascinating places that I have ever been. There are many unique products there that are hard to find in the US or UK. In this box, you can get Japanese beauty products, gachapon capsule toys, and most importantly plenty of sweets. There are six different subscription options so something for every budget.
Get more details about the Japan Crate here.
The Hawaiian Box
Hawaii is known for its gorgeous beaches, dramatic scenery, and luaus. It's one of those places everyone wants to go. You can get a bit of the island experience with this box featuring Hawaiian inspired or made in Hawaii products. Every quarter, you can expect five or more items such as bath and body products, home accessories, jewelry, and food that are handpicked with "love and aloha"! Some of the proceeds will be donated to a non-profit organization working to save Hawaii ecosystems.
Get more details about the Hawaiian Box here.
Irish at Heart
As the saying goes, everybody's Irish on St Paddy's Day! It's such a beautiful country with some of the friendliest people that I can't wait to go back and explore more. When you can't visit Ireland yourself, this box will send a little piece of Ireland to you every month. Each box is themed and carefully curated to include 5-6 traditional and contemporary Irish goods.
Get more details about the Irish at Heart box here.
The Scot Box
I love Scotland for its people, natural beauty, castles, food, and more. While I enjoyed my time sightseeing in Edinburgh (don't miss Edinburgh Castle), I want to visit more of the smaller towns in future trips. If you feel the same way this is the box for you. Every month they send 5 -6 items carefully curated from a featured Scottish Town by locals and a leaflet with information about your gifts and the Scottish Town they are from. There is always at least one edible gift and the other items are locally sourced/made gifts such as books or home decor trinkets.
Get more details about the Scot Box here.
Should you buy a subscription box?
Like many purchases it is a personal decision. I like subscription boxes because they give me something to look forward to. They can also be an easy way to discover new products or try new things. In some instances, the value of the goods inside the box far exceeds the subscription amount.
Subscription boxes can also make great gifts especially for those that are hard to buy for. You can find a box for almost every interest. It will introduce the recipient to new products and they will think of you each time they receive the box.
Are subscription boxes worth it?
Different boxes offer different value, so there isn't a blanket answer. Consider the value of the products versus the subscription price. In many cases you get more for the money because companies will offer products to be included in the box for free to get exposure. Companies organizing the boxes can also leverage volume discounts.
Think about how difficult it would be to get the products in your country. Especially with the international subscription boxes, it may not be possible to get some of the items where you live. Sometimes it's possible but there are huge shipping or other fees. If that is the case, if it is something you want, it might even be worth paying a premium.
The one negative about subscription boxes is that since the details of what is inside the box may not be known, there may be some items that you don't like or don't need. Paying for unneeded or unwanted items could offset any savings there might have been.
If you are unsure, why not try it and see what you think? Be sure to check the cancellation policy as some boxes require a minimum commitment.
Have you ever tried a subscription box? I would love to hear about your experience in the comments.
-Anisa
Pin for Later
Disclosure: This post contains affiliate links. This means we will receive a small commission for some purchases made using links in our blog with no additional cost to you.  Please be assured we would not promote any product unless we believe that our readers will also benefit.  The commission does not influence the editorial content of this site.
As an Amazon Associate, I earn from qualifying purchases.  Two Traveling Texans is a participant in the Amazon Services LLC Associates Program, an affiliate advertising program designed to provide a means for sites to earn advertising fees by advertising and linking to amazon.com, amazon.co.uk, amazon.ca. Amazon and the Amazon logo are trademarks of Amazon.com, Inc. or its affiliates.
Last Updated on September 24, 2020