In a world where experiences often hold more value than possessions, finding the perfect gift for a couple who loves to explore the world together can be a delightful challenge. As an international couple that enjoys traveling, few things make us happier than receiving a travel-related gift.
Gifts that complement our passion for travel become an integral part of our journeys. Whether it's a practical item that streamlines our travel plans, a sentimental keepsake that captures a special moment, or an unexpected surprise that ignites our wanderlust, travel gifts have a unique way of resonating with us on a profound level.
In this guide, we'll delve into a thoughtfully curated selection of the best travel gifts for couples who share the same wanderlust that Russell and I do. These gifts aren't just items; they're reflections of the experiences we hold dear and the connections we forge with the places we visit.
Whether you're searching for the perfect present to celebrate a milestone, an occasion, or simply to show your appreciation, these gift ideas are designed to inspire, evoke cherished memories, and fuel the adventurous spirit that binds couples together.
Note: This post contains affiliate links. Please see disclosure for more information.
Best Travel Gifts for Couples
When it comes to selecting the perfect travel gift for couples, the options are as diverse as the destinations they dream of. The key lies in understanding what resonates with them – whether it's the practicality of seamless travel, capturing memories, indulging their culinary curiosities, enhancing relaxation, nurturing their adventurous spirit, or creating a sentimental connection. Here, we're poised to guide you through all the choices, helping you discover the ideal gift that aligns with their unique journey together.
No matter which path you choose, rest assured that within this guide, you'll find a trove of ideas designed to resonate with the wanderlust that unites couples on their journey. Let's dive into all the gifting possibilities, so you can sure the gift you choose becomes a forever memory of their travels, a celebration of their amazing connection, and a little happiness they can carry across the world, side by side.
Best Practical Gifts for Couples That Like to Travel
Thinking of getting them a practical travel gift? It's a great idea because these gifts can make their travels smoother, more organized, and eco-friendly. While they're off exploring new places, your gift will be their trusty sidekick, ready for action. It's not just a gift – it's the start of their next travel chapter, and you're the person who made it happen! Here's a quick rundown of practical travel gift suggestions that couples will appreciate.
Luggage Set

Imagine surprising your favorite traveling couple with the Wrangler El Dorado Smart Luggage set – the ultimate game-changer in travel convenience. This two-piece ensemble isn't just luggage; it's a thoughtful companion designed to make their journeys smoother, more enjoyable, and downright exciting.
Picture this: while they're jetting off on their next adventure, they'll have a dedicated cup holder, USB port for device charging, and even a phone holder right at their fingertips. No more searching for charging stations or fumbling for their phones. Plus, those double spinner wheels? They'll glide effortlessly in any direction, making navigating bustling terminals a breeze. And when they inevitably return with more memories than they left with, the expandable design offers that extra packing space they'll need.
Inside, their belongings will find a home in a fully lined interior complete with pockets for organization – no more digging for essentials. The versatile sizing is perfect for those weekend getaways and quick escapes. But here's where it truly shines: the Wrangler El Dorado Smart Luggage set caters to the modern traveler's needs, featuring USB ports for charging on-the-go all at reasonable price.
Check the price and read reviews for the Wrangler El Dorado set here.
See more luggage options for couples here.
Toiletry Bag
You could gift a Bagsmart toiletry bag that's not just a bag, but a game-changer in travel organization. It's designed to keep all those essentials in check, so your favorite couple travels with style, ease, and total confidence.
With its spacious design, this toiletry bag ensures there's a place for everything. Imagine neatly rolled bottles, creams, and potions standing tall, thanks to inner main pockets with elastic straps. The double zipper compartment grants easy access to their items, even without fully opening the bag. Plus, those transparent sides offer a clear view of contents, so they'll never have to dig for that elusive tube of toothpaste again.
The convenience factor is amped up with a 360-degree swivel non-slip metal hook that transforms any space into a makeshift vanity. Talk about adaptable! And with a two-way zipper closure and a carry handle that doubles as a hanging strap, this bag is all about versatile convenience.
Crafted from water-resistant Polyester peach skin, this bag is both tough and supple, ensuring it stands up to the rigors of travel. Its well-padded design guarantees it maintains its shape and keeps their items well-protected. But it's not just about function; it's about style. This bag boasts a fashionable look that's perfect for any occasion – from business trips to family visits. It easily fits into suitcases, cupboards, and backpacks, making it their go-to travel companion.
Check the price and read reviews for the Bagsmart toiletry bag here.
See more options for toiletry bags for couples here.
His & Her Thermos Set
A set of matching stainless steel flasks from Unconditional Rosie is a present that's not just practical but also incredibly thoughtful and fun. With these two 500ml flasks, you're offering more than just containers; you're giving them the perfect companions for their daily adventures and moments of relaxation.
The matching design of these stainless-steel flasks isn't just about aesthetics; it's a symbol of their unique bond. These double-walled wonders aren't just stylish, they're also practical. They're designed to keep liquids hot or cold for an impressive 12 hours straight – so whether they're sipping their favorite coffee on a chilly morning or enjoying a refreshing drink during a sunny picnic, these flasks can handle it.
Dishwasher safe, these flasks are easy to maintain, making them perfect for both busy weekdays and lazy weekends. Whether they're on the go or relaxing at home, these stainless steel flasks will be right by their side, keeping their drinks at the perfect temperature and adding a touch of warmth to their everyday moments.
Check the price and read reviews for the Unconditional Rosie Thermos Set here.
See more options for reusuable water bottles for couples here.
Best Gifts to Capture Memories for Couples
Gifting a tool to capture travel memories is like offering couples the chance to immortalize their adventures. These gifts aren't just about physical items; they're about safeguarding experiences and emotions for a lifetime. In a fast-paced world, such gifts provide a way to make moments last, allowing them to revisit laughter, breathtaking sights, and cherished moments.
By encouraging memory capture, you're fostering a deeper connection between couples, sparking nostalgia and creating a shared journey they can relive together. It's a chance to slow down, savor experiences, and etch their story into something tangible, reminding them that their journey is about more than just destinations – it's about the memories they create along the way.
Discover these enticing travel gift suggestions to help couples capture memories.
DIY Scrapbook Kit
You could give the special couple the "Our Adventure Book" by Vienrose – a DIY travel scrapbook that's not just a book, but a gateway to reliving their most cherished memories. This isn't just any scrapbook; it's a personalized adventure encapsulated within the pages.
With dimensions of 10.6 x 7.5 inches on the outside and 10.4 x 7.3 inches for the inside pages, this scrapbook is more than just a place to store photos; it's a canvas for their stories. Holding over 160 4×6-inch photos, it's a treasure trove of moments waiting to be preserved.
It comes with everything they need to craft their memories beautifully: 8 pages of DIY stickers, 8 color watercolor pens, 6 pages of self-adhesive photo corners, 2 text templates, 3 rolls of washi tapes, 1 lace scissors, and a delicate gift box. It's like gifting them the tools to turn their adventures into art.
Quality is paramount, and this scrapbook nails it. Crafted from premium acid-free cardboard, the embossed cover is not just sturdy; it's a testament to the care put into every detail. Bound together with exquisite rope, the pages are an invitation to open and close, switch and revisit – all while keeping their memories secure.
The "Our Adventure Book" isn't just about pasting photos; it's a canvas for writing, drawing, and storing treasured moments. They can fix photos with tape or corner stickers, adding their personal touch to every page. Plus, they can jot down their thoughts, add captions, or even DIY designs that resonate with their journey.
In a world where memories tend to fade, this scrapbook becomes a time capsule of their adventures – a place where laughter, shared experiences, and love reside. Each page is an opportunity to journey back, celebrate milestones, and create something beautiful together. It's not just a gift; it's a doorway to their story, waiting to be explored, shared, and cherished.
Check the price and read reviews for the "Our Adventure Book" by Vienrose here.
See more options for DIY travel scrapbooks for couples here.
Digital Photo Frame
A gift of a Nixplay digital photo frame is a window to the couple's memories that's not just a frame, but a testament to the beauty of their journey. This isn't your ordinary photo frame; it's a modern masterpiece that effortlessly blends technology with nostalgia.
Let's talk about those touch screen controls – intuitive and easy to use, they make navigating through their memories a breeze. Whether they want to view their photos in portrait or landscape mode, this frame adapts to their preferences, automatically rotating content for the perfect view. And here's the magic: AI and proprietary software ensure that people are positioned at the center of the frame, ensuring a captivating viewing experience.
This frame isn't just about displaying memories; it's about creating them. With free unlimited cloud photo storage, they can seamlessly share playlists that the whole family can contribute to using the Nixplay App. Even those who don't own a frame can join in the fun, sending photos and videos directly to any frame using the Nixplay iOS or Android Mobile App, Desktop Web App, or even through email. The flexibility continues with Wi-Fi connectivity, allowing them to transfer media using the app, email, or web browser – no memory cards or USB sticks needed.
Designed with energy efficiency in mind, the smart sensor knows when they're in the room, waking the frame to showcase their most recent photos or videos. It then sleeps when they're not around, saving energy and ensuring their memories are always on display.
But let's talk about image quality. Nixplay's niX-Spectre HD IPS Display boasts a wide viewing angle without compromising on crisp, vibrant color reproduction. No matter where they are in the room, their photos and videos will look stunningly clear.
Concerned about privacy? Don't be. Nixplay's cloud storage is secure and compliant, ensuring that their photos are safe and protected. And if they ever need assistance, Nixplay's customer service is ready to help, with millions of happy customers served through phone, email, or chat.
By the way, I can't help but share that my friends gave me a Nixplay frame for my milestone birthday, and it's hands down one of my favorite gifts ever. Every glance at it is like flipping through a personal gallery of cherished moments, reminding me of many special memories. Trust me, this gift isn't just a frame; it's a portal to a world of love, joy, and treasured stories.
Check the price and read reviews for the Nixplay Digital Photo Frame here.
See more options for digital photo frames for couples here.
Photo Shoot
Delight your travel-loving couple friends with a gift card that promises an unforgettable experience – a vacation photoshoot with Flytographer. It's an opportunity for them to create lasting memories while exploring a new destination. Flytographer brings a new dimension to their travels, connecting them with local photographers who are not only skilled but also passionate about capturing the essence of their journey.
Imagine a friendly local photographer eager to guide them through the charming streets and hidden gems of their destination while expertly capturing candid moments. With Flytographer, every snapshot becomes a visual story, a tangible memory of their adventures. From romantic strolls to vibrant markets, the photoshoot transforms into a journey of its own, revealing the true spirit of their chosen location.
Flytographer's gift card offers them the chance to preserve their vacation memories in a special way. It's a travel souvenir like no other – priceless and irreplaceable. The ease of use and lack of expiration ensures that they can plan their photoshoot whenever it aligns with their travel plans, making it a flexible and thoughtful gift.
With Flytographer's services available in 350 cities worldwide, they can choose to indulge in this experience wherever their wanderlust takes them. It's a global network of photographers ready to turn their adventures into a gallery of cherished moments. Whether it's a romantic getaway, a family vacation, or a solo adventure, the Flytographer photoshoot transforms their travels into art.
So, consider gifting them a Flytographer gift card and watch as their journey unfolds in the most picturesque way possible. It's a gift that goes beyond material items, delivering a unique blend of exploration and personal connection, resulting in a collection of memories they'll treasure forever.
If it's your first time using Flytographer, you can get $25 if you use the code TTTPHOTO. Get more details here.
Bucket List Travel Journal Book
Consider giving the "Our Bucket List: A Journal for Couples" book, it's a treasure trove of dreams and adventures waiting to be unlocked. This journal isn't just a book; it's a pathway to forging deeper connections and crafting unforgettable experiences together.
What could be more enticing than building a shared bucket list with your partner? It's a journey that not only brings a couple closer but propels them toward their dreams. Inside its pages, they'll discover 101 inspiring bucket list ideas – a buffet of possibilities from which to choose. These ideas aren't just suggestions; they're sparks that can ignite conversations, dreams, and shared goals.
This journal isn't just about jotting down ideas; it's about documenting their journey. Pen down their ultimate travel list, journal about their fulfillment, and even preserve memorabilia that encapsulate their shared adventures. Each entry becomes a stepping stone in their journey, a marker of the memories they've woven together.
And as they journey together, the journal continues to guide them. "Looking back" questions encourage them to reflect on their accomplishments, ensuring that their journey isn't just about checking off items but about embracing the growth, connection, and happiness they've gained along the way.
So, gift the "Our Bucket List: A Journal for Couples" and watch dreams turn into plans, ideas transform into experiences, and pages fill with love and laughter. It's not just a book; it's an invitation for the couple create a life filled with shared dreams, unforgettable escapades, and cherished memories.
Check the price and read reviews for the "Our Bucket List: A Journal for Couples" here.
See more options for travel journals for couples here.
Best Culinary and Foodie Gifts For Couples That Like to Travel
When seeking the ideal gift for a couple with a passion for travel, a culinary delight can be the perfect choice to infuse their journeys with flavors from around the world. It provides them with an opportunity to embark on a global gastronomic adventure from the comfort of their own kitchen.
Through spices, recipes, and ingredients, they can recreate the tastes of the destinations they've explored, connecting with cultures and traditions that have left a mark on their hearts. A culinary gift not only enhances their culinary skills but also adds a new layer of excitement to their travel experiences, allowing them to savor the memories of their journeys long after they return home.
Find inspiration in these travel gift ideas catered to couples who are foodies.
International Cooking Subscription Box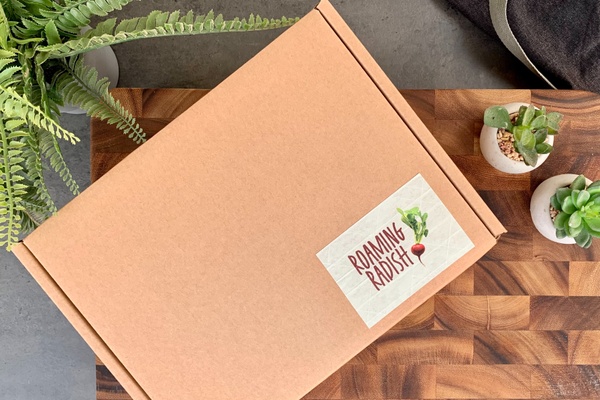 Contribute to the culinary adventures of the travel-loving couple by gifting them the Global Kitchen Inspiration Subscription Box from Roaming Radish. This thoughtful gift goes beyond ordinary cooking, offering them a journey through flavors and cultures from around the world. Each month, they'll be transported to a new destination as they explore different cuisines, spices, and recipes.
The Roaming Radish subscription box is an invitation to create culinary masterpieces from the comfort of their own kitchen. With pantry staples, spices, sauces, and recipe cards, the box provides the essential building blocks to craft authentic dishes that honor diverse traditions.
The beauty lies in the interactive nature of the subscription. They'll bring their own produce and protein, infusing their personal touch into each creation. As they cook up dishes inspired by distant lands, they'll discover the joy of experimenting with new ingredients and techniques, broadening their culinary horizons one meal at a time.
Roaming Radish's commitment to making a positive impact is woven into every box. A portion of the subscription cost is donated to a charity or organization that supports producers in the featured region of the month. By indulging in their culinary explorations, they're also contributing to meaningful causes that empower communities around the world.
The Global Kitchen Inspiration Subscription Box is a gift that keeps on giving, making it a perfect choice for the adventurous couple who enjoys both cooking and making a difference. It's a culinary journey that allows them to travel through taste, bringing the world to their plate while supporting meaningful initiatives.
So, consider gifting the Global Kitchen Inspiration Subscription Box to the travel-loving couple in your life. It's a way to spark their creativity, tantalize their taste buds, and make a positive impact on a global scale – all while enjoying the magic of cooking together.
Check the price and read reviews for the Global Kitchen Inspiration box here.
See more options for travel subscription boxes for couples here.
Anthony Bourdain Cookbook
"Appetites: A Cookbook" by Anthony Bourdain and Laurie Woolever will take couples on a journey into the heart of cooking, flavors, and shared meals. This is more than a cookbook; it's a passport to the world of tastes and experiences, penned with the unapologetic spirit that made Anthony Bourdain a culinary legend.
From his daring exploits on "No Reservations" to his deep explorations on "Parts Unknown," Anthony Bourdain understood the world's appetites like no other. Now, in "Appetites," he shares his culinary prowess with home cooks, bringing his decades of expertise to a collection of personal favorites – dishes he believes everyone should have in their repertoire.
No longer the "bad boy" of cooking, Bourdain's journey has transformed him into a dedicated family man who finds joy in cooking for loved ones. "Appetites" condenses his professional journey and globetrotting adventures into a treasure trove of recipes. These are dishes that have stood the test of time and earned his stamp of approval.
In "Appetites," Bourdain's persona comes to life, offering not just recipes but stories behind them. The book reflects his personal tastes and experiences, transporting readers into his kitchen and onto his travels. It's more than just a recipe book; it's an insight into the mind of a culinary explorer who finds joy in entertaining at home.
Years of being at the helm of restaurant kitchens have shaped Bourdain's approach to cooking. This cookbook becomes a guide, sharing the lessons he's learned from the world's culinary capitals. It's a battle plan for those who want to impress their guests with not just flavors, but efficiency.
So, if you're looking for a gift that goes beyond a typical cookbook, "Appetites: A Cookbook" is the perfect choice. It's not just about recipes; it's about stories, memories, and the pleasure of sharing meals with loved ones. Whether they're seasoned cooks or just starting their culinary journey, this cookbook will inspire them to explore flavors, embrace the art of cooking, and create unforgettable dining experiences.
Check the price and read reviews for the "Appetites: A Cookbook" here.
See more options for international cookbooks for couples here.
Best Gifts for Comfort and Relaxation for Couples On the Go
Pair of Travel Foot Rests
Elevate the travel experience for your favorite jet-setting couple with a pair of versatile footrests from ALOKA – a thoughtful gift that adds comfort and convenience to their globetrotting adventures. From cars to airplanes, offices to living rooms, these footrests adapt seamlessly to various settings, making them the perfect addition to any traveler's toolkit.
Whether they're looking to adjust their feet and legs to the most comfortable position during a flight or create a cozy resting spot for their toddler, these footrests will come in handy. The road trips that stretch into hours and red-eye flights become more comfortable with the aid of these inflatable cushions. Positioned between the front and back car seats, they create a comfortable resting place, aiding blood circulation and preventing swollen feet during extended journeys.
Convenience is key, and these footrests deliver. They're portable, lightweight, and leak-proof, making them easy to carry and store. Deflate and tuck them into the provided portable bag, which fits effortlessly into their luggage. Whether they're jetting off for a family vacation or embarking on a solo adventure, these footrests ensure comfort is always within reach.
Using the footrests is a breeze – they can be inflated in under a minute, either by blowing with the mouth or using the included air pump. The high-quality PVC flocking material offers a comfortable touch, ensuring a luxurious experience wherever they are.
It's worth noting that while these footrests enhance comfort for most travel situations, some airlines might have restrictions on their use. Nonetheless, with a pair of footrests, two hand pumps, and two dust covers included, this gift becomes a practical and thoughtful present for any travel-loving couple. It's not just about comfort; it's about enhancing their travel experiences, making each journey a bit more relaxing and enjoyable.
Check the price and read reviews for the Aloka Footrest set here.
See more options for travel foot rests for couples here.
Aeropress
The Aeropress XL is a gift that brings a unique and delightful coffee experience to journeys. This innovative coffee press doubles the brewing capacity of its iconic predecessor, allowing them to craft up to six shots of espresso-style coffee or two cups of American-style coffee (20 oz./590 ml) with a single press.
What sets the Aeropress XL apart is its commitment to flavor excellence and convenience. The included crystal-clear Tritan carafe streamlines the brewing and serving process, making their coffee moments seamless and enjoyable. With its patented 3-in-1 brew technology, the Aeropress XL produces a smooth, rich, and grit-free cup of coffee, free from bitterness.
Unlike traditional methods like the French press, this technology combines agitation, pressure, and micro-filtration to ensure a clean and flavorful finish. The Aeropress XL's durability, shatterproof design, and lightweight build make it ideal for travel and camping, turning every cup into an adventure companion.
This gift not only enhances their travel mornings but also promises a unique and original coffee experience that they can enjoy together. And with a one-year warranty, the Aeropress XL embodies quality and assurance, ensuring that their coffee rituals remain consistently delightful no matter where their explorations take them.
Check the price and read reviews for the Aeropress XL here.
See more options for travel coffee makers for couples here.
Travel Pillow/Blanket Set
Your favorite travel-loving couple will appreciate the Bluehills 2 Pack Travel Blanket Pillow – a versatile and cozy gift. It's a travel essential designed to make every adventure more comfortable and enjoyable.
Wrapped in plush softness, this travel blanket is more than just warmth – it's a touch of luxury on the go. And now, it's available in a set of 2, making it the perfect gift for a couple that loves to travel. Whether they're sharing special moments on a flight or embarking on separate journeys, this gift ensures comfort is never compromised.
This isn't your ordinary blanket – it's a multi-functional wonder. Use it as a airplane blanket to ward off the chill at high altitudes. Alternatively, fold it up and tuck it into the case to transform it into a travel pillow for airplanes, making long journeys a lot more comfortable.
But it's not just about functionality; it's about convenience too. Equipped with a hand luggage belt, this blanket becomes an essential travel companion. The included backpack clip ensures they never lose their blanket amidst the chaos of travel. Clip it onto their suitcase, handbag, or backpack, and you're all set to stay warm wherever you go.
Don't limit its use to just travel. With dimensions of 60″ long and 43″ wide, this blanket is the perfect size to drape over a couch at home or to use during road trips. It's not just a travel accessory; it's a versatile comfort companion that brings warmth to any setting.
Check the price and read reviews for the Bluehills 2 Pack Travel Blanket Pillow here.
See more options for travel pillows for couples here.
Best Gifts for Couples Who are Adventurous and Like to Explore
For a couple that thrives on travel and adventure, a gift that encourages exploration becomes a catalyst for unforgettable experiences. Such a gift fuels their curiosity and wanderlust, pushing them to discover new horizons and forge lasting memories. These thoughtful presents inspire them to embrace the unknown, immerse themselves in diverse cultures, and cultivate a shared narrative of thrilling escapades that enrich their bond and define their journey as a couple.
Find inspiration in these travel gift ideas catered to couples who are always ready for an adventure.
GoPro
Gift a GoPro and lift the adventurous spirits of your travel-loving couple friends. Whether they're scaling mountains, diving into oceans, or simply exploring new horizons, a GoPro serves as the ultimate companion to document their escapades with unparalleled clarity and vibrancy.
Now, here's the secret – you don't need to chase the latest and greatest model to create stunning content. We still rely on our trusty GoPro7 for our own adventures, and it continues to deliver outstanding results. However, if you're considering a gift for them now, the GoPro Hero 9 would be our choice.
With the ability to shoot up to 5K video resolution, even the finest details remain crystal clear, ensuring that their footage retains its beauty even when they zoom in. Not to mention, the 20MP photo capacity paired with SuperPhoto ensures that every captured moment radiates professional quality.
Navigating and framing shots becomes effortless with a new, larger rear touch screen and a striking front display that makes controlling the camera intuitive and easy. Moreover, sharing their experiences with the world becomes a seamless process with live streaming capabilities in 1080p, bolstered by the impeccable HyperSmooth stabilization.
With HyperSmooth 3.0 for advanced stabilization and TimeWarp 3.0 for mesmerizing time-lapse scenes, their videos attain an unmatched level of quality. Additionally, its rugged build and waterproof design, functional even down to 33 feet, guarantee that no adventure is too extreme.
Check the price and read reviews for the GoPro Hero Black 9 here.
See more options for action cameras for couples here.
If they already have a GoPro, you could get them some accessories. See the options here.
Best Personalized and Sentimental Couples Gifts
A personalized gift becomes a token of thoughtfulness for a couple who cherishes their travel adventures. Whether celebrating an anniversary, engagement, or any special occasion, a personalized gift reflects the uniqueness of their journey and the bond they share.
It captures their shared experiences, favorite destinations, or memorable moments, transforming them into a tangible keepsake that resonates deeply. By engraving their names, a significant date, or even a heartfelt message onto travel essentials or mementos, the gift becomes a constant reminder of their love story intertwined with their explorations. A personalized gift not only conveys your heartfelt sentiments but also adds a touch of intimacy to their travel experiences, turning each item into a cherished reflection of their journey together.
Present unique expressions of love with these personalized travel gift ideas perfect for couples.
Personalized Puzzle
Capture the essence of the travel-loving couple's adventures in a unique and heartfelt way by gifting them a personalized puzzle from Jigsaw2Order. This thoughtful gesture transforms their cherished memories into an interactive experience, making it a perfect present for those who embrace exploration. With your chosen digital image file (Jpg), you can craft a puzzle that speaks to their wanderlust.
The magic lies in the professional quality photo enlargement, which mirrors the results of your local photo lab. The puzzle captures the true essence of colors, ensuring that every piece resonates with lasting vibrancy. As they piece together the puzzle, they'll feel the quality in their hands, immersing themselves in a tactile journey that complements their love for travel.
Packaged in a flip-top Puzzle Box, the finished photo jigsaw puzzle offers a nice presentation with your chosen image prominently displayed on top. The puzzle becomes more than just a pastime; it's a work of art that celebrates their adventures and bonds them with shared experiences.
Their chosen image can be oriented horizontally or vertically, allowing you to select the perfect snapshot that encapsulates their journey. As they assemble the puzzle, they'll reconnect with the places they've been, the sights they've seen, and the moments they've treasured.
With puzzle piece sizes averaging around 0.8 inches, the challenge is engaging yet manageable, making it a delightful activity to enjoy together. The single-sided image ensures that their puzzle experience remains true to the chosen memory.
So, consider gifting them a personalized puzzle – a tribute to their travel adventures that's both engaging and heartwarming. It's a way to craft a tangible representation of their journeys, inviting them to relive those moments while creating new ones as they piece together the puzzle of their shared adventures.
Check the price and read reviews for the Jigsaw2Order personalized puzzle here.
See more options for personalized puzzles for couples here.
Personalized Canvas Print
Give the travel-loving couple a truly personalized and heartfelt gift with a custom canvas from CP Canvaspath– a gesture that encapsulates their wanderlust and adventures in a tangible work of art. Printed and hand-stretched in the USA, CP Canvaspath ensures that each canvas is a testament to quality and craftsmanship. The combination of real wood frames, professional photo printers, and high-quality pigment ink produces stunning artwork that's not only visually appealing but also built to last.
Available in various sizes, including 8×10″, 16×20″, 24×30″, and 30×36″, these canvases come in gallery wraps that are 1 1/2 inches thick, adding a three-dimensional depth that enhances their visual impact. The mirrored edges prevent any image area from being lost, ensuring that the essence of the artwork remains intact.
What sets these canvases apart is the array of customization options available. Imagine their names written inside a heart drawn in the sand at a serene beach, or their names featured on road signs amidst the bustling streets of New York City. These personalized touches bring their travel experiences to life on canvas, creating an artwork that resonates with their unique journey.
Whether they choose to hang it in their living room, bedroom, or any other cherished space, the canvas becomes a constant reminder of their adventures and the love they share. It's more than just a decoration; it's a tribute to their journey, their bond, and their aspirations.
Check the price and read reviews for the CP Canvaspath personalized canvas here.
See more options for personalized canvas prints for couples here.
More Travel Gift Ideas for Couples
While this list offers many options for couple travel gifts, occasionally finding that perfect present remains a challenge. If you're still seeking inspiration, you're welcome to explore additional gift ideas through the following posts:
Happy Shopping!
-Anisa
Pin for Later
---
Disclosure: This post contains affiliate links. This means we will receive a small commission for some purchases made using links in our blog with no additional cost to you. Please be assured we would not promote any product unless we believe that our readers will also benefit. The commission does not influence the editorial content of this site.
Two Traveling Texans is a participant in the Amazon Services LLC Associates Program, an affiliate advertising program designed to provide a means for sites to earn advertising fees by advertising and linking to amazon.com, amazon.co.uk, amazon.ca. Amazon and the Amazon logo are trademarks of Amazon.com, Inc. or its affiliates.